Froome's Triple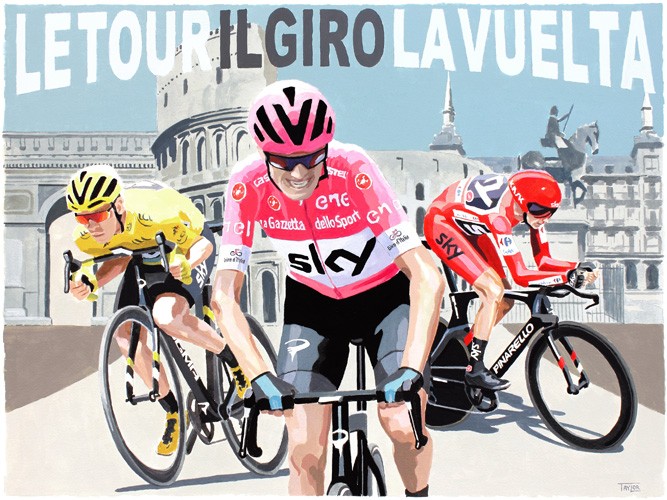 SPECIAL OFFER DURING THE TOUR DE FRANCE!!
Froomey secures the Giro D'Italia in 2018 and becomes a Legend!

This wonderful Giclée print features Simon's iconic painting celebrating Chris Froome's historic Tour Treble. Having won the Tour de France and Vuelta in 2017, and the Giro D'Italia in 2018, Froomey now joins an elite group of riders in the history of cycling to have won all three Grand Tours, and an even more elite group to have won them consecutively.
Painstakingly reproduced from the original painting and professionally printed to the highest standards using the highest quality archival UV stable inks and art paper.
This edition is limited to just 175 copies with a print size of 440 x 355mm approx. and is printed on fine quality art paper. Each print is hand signed & numbered by Simon Taylor.

Usual price £95, special offer during this years Tour de France £75 inc postage.
Framing
To order a made to measure frame from easyframe.co.uk click here. You will be able to customise the colours and frame (ignore the image which is there for reference purposes only).
Please note that all Simon's prints are unofficial and not affiliated to any rider/team or sponsor except where noted.