Sky Sunset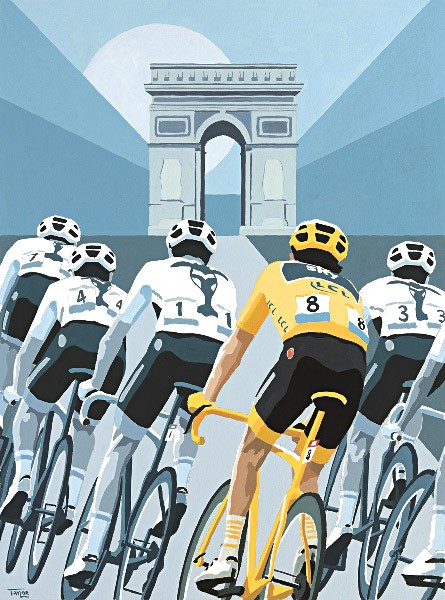 New
Special coming out of lockdown offer - the first 25 copies are large format

This stylish Giclée print is a reproduction of Simon's iconic painting featuring Team Sky, with Geraint Thomas in the yellow jersey, on the Champs-Élysées at the 2018 Tour De France, and commemorates Sky's last Tour victory, and Geraint's first.
As a special edition, the first 25 copies are full size prints - approximately the same size as the original painting, 430 x560mm. The rest of the edition is the usual size of 326 x 450mm. To get the larger version, please place your order quickly to avoid disappointent.
Painstakingly reproduced from the original painting and professionally printed to the highest standards using the highest quality archival UV stable inks and art paper.
This edition is limited to just 99 copies and is printed on fine quality art paper. Each print is hand signed & numbered by Simon Taylor.

A few large copies are still available. Price £95.00 including postage.

Please note that all Simon's prints are unofficial and not affiliated to any rider/team or sponsor except where noted.
Also Purchased Products