5 Times World Champion
Lewis Wins an Epic Fifth World Championship!
This fine art Giclée print, features Lewis Hamilton passing Sebastian Vettel to take his fifth world championship, a contemporary take on a sixties style motor racing poster. Reproduced from Simon's mixed media painting on paper.
As with all Simon's prints it has been painstakingly reproduced from the original painting and professionally printed to the highest standards using the highest quality archival UV stable inks and art paper.
This edition is limited to just 125 copies with a print size of 450 x 326mm approx. and is printed on fine quality art paper. Each print hand signed by Simon Taylor.
Framing
To order a made to measure frame from easyframe.co.uk click here (ignore the cycling painting which is shown for reference purposes). You will be able to customise the colours and frame.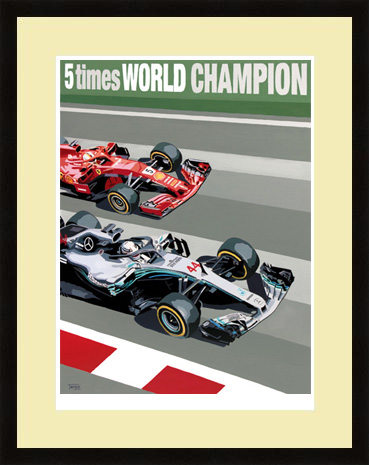 Please note that all Simon's prints are unofficial and not affiliated to any driver/team or sponsor except where noted.
Also Purchased Products