Froome's Triple Success
Froome Triple Fine Art Print by Simon Taylor
Cheapest shipping from $20.74
Delivery Status:
1-3 days
Froome's Triple Success
This wonderful Giclée print features Simon's iconic painting celebrating Chris Froome's historic Tour Treble, the original painting owned by the man himself!

Froomey is in an elite group of riders in the history of cycling to have won all three Grand Tours, and to have won them consecutively.
Painstakingly reproduced from the original painting and professionally printed to the highest standards using the highest quality archival UV stable inks and art paper.
This is an open edition with a print size of 326 x 450mm approx. and is printed on fine quality art paper. Each print is hand signed by Simon Taylor.
Framing
To order a made to measure frame from easyframe.co.uk click here. You will be able to customise the colours and frame.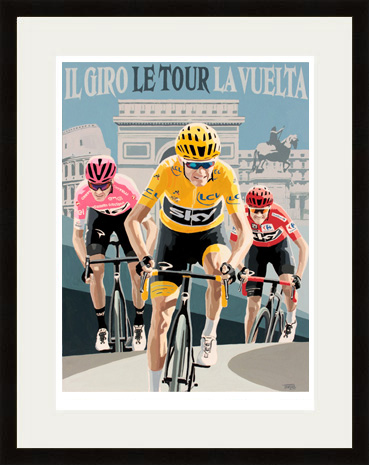 Please note that all Simon's prints are unofficial and not affiliated to any rider/team or sponsor except where noted.
Printed on Somerset Enhanced Velvet 255 gsm - matt textured paper using the highest quality archival UV stable inks.
Somerset Enhanced is a professional fine art paper made at St Cuthberts Mill in Somerset. It has a velvety mid textured surface, using natural woollen felts and is 100% cotton. This archival grade paper exhibits high whiteness, without the use of optical brightening agents and is buffered with calcium carbonate to combat acid attack that finished prints may encounter from air pollution.