Wiggins World Champion
Wiggins World Champion Giclee Print by Simon Taylor
Cheapest shipping from $20.74
Delivery Status:
1-3 days
Wiggins at his Time Trial Best!
This wonderful Giclée print features Simon's iconic painting of Sir Bradley Wiggins riding his time trial machine en route to a dominant victory in the 2014 World Championships, with a colourful backdrop and design reflecting Bradley's style and interest in 1960's mod culture.
Painstakingly reproduced from the original painting and professionally printed to the highest standards using the highest quality archival UV stable inks and art paper.

Each print measures 450 x 326mm approx. and is printed on fine quality art paper. The edition is limited to just 195 copies. Each print is hand signed & numbered by Simon Taylor.
Framing
To order a made to measure frame from easyframe.co.uk click here. You will be able to customise the colours and frame.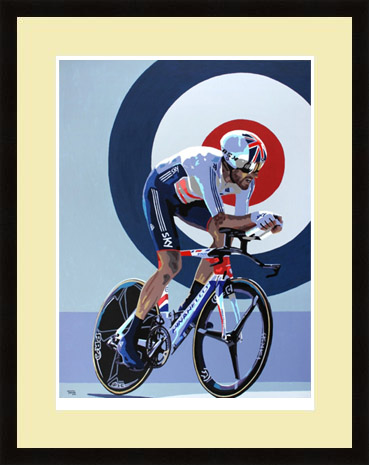 Please note that all Simon's prints are unofficial and not affiliated to any rider/team or sponsor except where noted.

Printed on Somerset Enhanced Velvet 255 gsm - matt textured paper using the highest quality archival UV stable inks.
Somerset Enhanced is a professional fine art paper made at St Cuthberts Mill in Somerset. It has a velvety mid textured surface, using natural woollen felts and is 100% cotton. This archival grade paper exhibits high whiteness, without the use of optical brightening agents and is buffered with calcium carbonate to combat acid attack that finished prints may encounter from air pollution.